Differences in Tenderness
Live Animal, Carcass & End Product Committee considers environmental and genetic influences on beef tenderness.
by Troy Smith, field editor, Angus Journal®
LINCOLN, Neb. (June 20, 2014) — When it comes to tenderness, there are many influential factors. There are tenderness differences related to cattle breed, but there is considerable variation within breeds. Certainly, genetics have much to do with it. According to Tommy Wheeler, a scientist specializing in meat quality research, numerous gene markers associated with beef tenderness have been identified. He expects even more. However, evidence thus far suggests that the influence any single gene has on beef tenderness is small.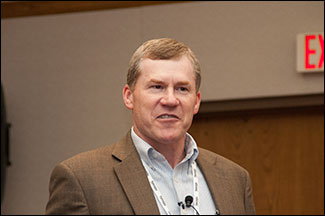 Discussing cattle management influences, Tommy Wheeler said aggressive growth-implant protocols can increase beef toughness.
A researcher at the U.S. Meat Animal Research Center (USMARC) near Clay Center, Neb., Wheeler talked about sources of variation in beef tenderness during the 2014 Beef Improvement Federation (BIF) symposium June 18-21 in Lincoln, Neb. While positively correlated, Wheeler said marbling (intramuscular fat) is not a big factor. Relative amounts of connective tissue (collagen) and postmortem muscle shortening, are greater influences, as is enzymatic action occurring during aging of beef. Wheeler said the influence of each can vary among different animals, but it can also vary among different muscles of the same carcass.
"There is great variation in the impact of each trait," stated Wheeler. "Each has an impact, but it is the combined effect that really determines whether beef is more or less tender."
Discussing cattle management influences, Wheeler said aggressive growth-implant protocols can increase beef toughness. Use of Beta-agonist feed additives also makes beef less tender. Wheeler said the effects have been smaller with Optaflexx® than with Zilmax®.
"Not all animals are affected the same," Wheeler added. "Not all are tough after receiving beta-agonists," added Wheeler.
Wheeler said research has shown that tenderness variation also occurs among dark cutters — animals producing dark-colored beef as a result of experiencing a period of stress just prior to slaughter. The darkest beef was actually the most tender, while only slightly dark or "shady" beef was less tender than normal beef.
According to Wheeler, slightly dark beef often makes it into the normal product mix. Since it can be tough, it could be the cause of some less-than-satisfactory eating experiences.
The 2014 BIF Annual Meeting & Research Symposium was hosted by the University of Nebraska–Lincoln, the U.S. Meat Animal Research Center and the Nebraska Cattlemen June 18-21 in Lincoln, Neb. The Angus Journal and LiveAuctions.tv provide comprehensive online coverage of the event at www.BIFconference.com. Visit the Newsroom for summaries, proceedings, PowerPoints and audio of the sessions; and the Awards page for announcements of award winners.
Editor's Note: This summary was written under contract or by staff of the Angus Journal.Through an agreement with the Beef Improvement Federation, we are encouraging reprinting of the articles to those who will adhere to the reprint guidelines available on this site. Please review those guidelines or contact Shauna Rose Hermel, editor, at 816-383-5270. PowerPoints are posted with permission of the presenter and may not be reproduced in whole or in part without the express permission of the presenter.
API's coverage of the event is made possible through collaboration with BIF and sponsorship of LiveAuctions.tv. For questions about this site, or to notify us of broken links, click here.
Headquartered in Saint Joseph, Mo., API publishes the Angus Journal, the Angus Beef Bulletin, the Angus Beef Bulletin EXTRA, and the Angus Journal Daily, as well as providing online coverage of events and topics pertinent to cattlemen through the Angus Journal Virtual Library.