IVF Technology
TransOva director offers updates, outlook on reproductive technologies.
by Shelby Mettlen, assistant editor
MANHATTAN, Kan. (June 15, 2016) — Director of marketing and genomics for Trans Ova Genetics, Mark Allan credited artificial insemination (AI) with opening the doors to utilization of the remainder of today's "reproductive toolbox," on June 15 at the annual Beef Improvement Federation conference in Manhattan, Kan. However, he said, it is in vivo embryo transfer (ET) that makes up Trans Ova's backbone, and it is in vitro fertilization (IVF) that is taking reproductive advancements in beef and dairy cattle to the next level.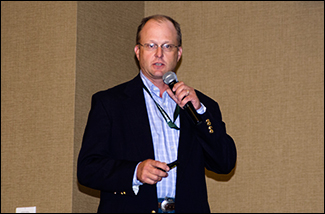 Mark Allan outlined today's latest and greatest technological advancements in reproduction, including sorted semen; recipient cattle; ViaGen technology; and precision breeding or gene editing.
Allan outlined today's latest and greatest technological advancements in reproduction, including sorted semen; recipient cattle; ViaGen technology; and precision breeding or gene editing.
Reproductive technologies paired with genomic-enhanced selection places no limit on the rate at which genetic gain can be accelerated, he said. ET increases the genetic impact of superior females. Calves as young as 20 days old have progeny equivalent information on record.
Allan focused his attention on IVF technology, which he reminded listeners has been in the works for both the beef and dairy industries since the early 1990s.
"What are we actually doing [with IVF]?" he asked his audience. "We're harnessing both sides of the equation. Instead of using superior bulls on cows and improving genetic gain, we're now taking superior females with the superior males and getting it from both sides."
The more progeny gained from a single mating, the greater the chance of getting that animal that is "clear out there at the top of the bell curve on every single trait," he said. IVF allows for the opportunity to move the average genetic merit of a combination of superior parents forward.
In the dairy industry, Allan said, Trans Ova has been producing pregnancies in 7-month-old heifers for more than five years using IVF technology.
"We're being asked to push that envelope even lower," he said.
IVF can be done every two weeks, where ET and in vivo flushing can be done not more often than every 40-60 days.
"We can make a lot of pregnancies and a lot of embryos in a very small window of time, moving genetic gain at a really fast rate," he explained.
"What reproductive technologies do is push this generation through," he said. "How young can these parents be that are producing those calves?"
Allan referred to this as the "race" for genetic improvement, and said it's turned the dairy industry upside down. Both male and female age has dropped over the years, but heifer age has seen the most dramatic decrease. Allan explored the idea of collecting oocytes from 40- to 50-day-old heifers in the future.
"We have got to figure out how to leverage more commercial data that we generate and tie that all together in our genetic evaluation," he said.
One of the greatest opportunities for use of IVF technology in the commercial beef sector is its ability to maximize heterosis in crossbreeding programs by using embryos to produce F1s suitable over environments and breed complimentarity, Allan said.
"The impact of these technologies on the commercial sector is going to increase."


Editor's Note:This summary was written under contract or by staff of Angus Media. Through an agreement with the Beef Improvement Federation, we are encouraging reprinting of the articles to those who will adhere to the reprint guidelines available on this site. Please review those guidelines or contact Shauna Rose Hermel, editor, at 816-383-5270. PowerPoints are posted with permission of the presenter and may not be reproduced in whole or in part without the express permission of the presenter.

Angus Media's coverage of the event is made possible through collaboration with BIF and sponsorship of LiveAuctions.tv. For questions about this site, or to notify us of broken links, click here. Look for additional coverage in the Angus Journal, the Angus Beef Bulletin, the Angus Journal Daily, the Angus Beef Bulletin EXTRA and Angus TV.