The Importance of a Plan
Cattlewoman shares advice on how to navigate farm transition.
by Shelby Mettlen, assistant editor, Angus Media
MANHATTAN, KAN. (June 14, 2016) — "Build a legacy," said Paige Pratt at this year's annual Beef Improvement Federation symposium June 14 in Manhattan, Kan.
The Flint Hills Angus breeder urged listeners to have a plan. Four years into their marriage, Pratt and her husband, Jason, reached a crossroads. Pratt's father asked the pair if they had any interest in moving from Jason's home state of Virginia, where they had a fairly established bull sale and development program, to Kansas. He was offering a family farm transition. After much debate, Pratt and her husband shipped eight potloads of cattle, three semiloads of equipment, themselves and their young daughter west to take over her father's operation.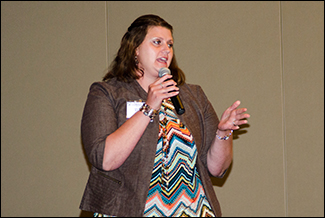 "Have a plan," Paige Pratt said. "If you don't have a plan, then you are not able to set other people up for the success they need to have."
She shared with those gathered for Tuesday evening's Young Producer Symposium advice for a successful farm transition.
"Have a plan," she said. "If you don't have a plan, then you are not able to set other people up for the success they need to have."
Write it down, she stressed. Write down your plan, and spend some money on an attorney to make sure what you want to see happen with your operation, happens.
Pratt shared some advice from transition expert Jolene Brown: "If the generation that holds the assets is not willing to let it go, walk away.
"If the generation is not willing to make a plan and put it on paper, then walk away," she repeated for emphasis. "That is tough news, guys. That is hard to do, but you can do it. You have to do it, because unless you're going to get compensated at the level that you should get compensated at for the number of hours you worked at another job off the farm, you can't afford to stay on the family farm with no guarantees. You have to walk away."
Pratt went on to share moving and heartwrenching stories of family farm transitions gone awry. A better plan and more communication, she said, may have made the difference.
"It is never too early to have a plan where everyone knows what the plan is," she explained. "Plans can change. Attorneys can draw up new plans. So, if it's not perfect today, it can be in five years. But have a plan."
She encouraged the audience to build a legacy, "not only for you, but start a legacy for the next generation. That only starts if everyone is willing to sit down, start a conversation, make a plan, put it in writing, and talk about it."


Editor's Note:This summary was written under contract or by staff of Angus Media. Through an agreement with the Beef Improvement Federation, we are encouraging reprinting of the articles to those who will adhere to the reprint guidelines available on this site. Please review those guidelines or contact Shauna Rose Hermel, editor, at 816-383-5270. PowerPoints are posted with permission of the presenter and may not be reproduced in whole or in part without the express permission of the presenter.

Angus Media's coverage of the event is made possible through collaboration with BIF and sponsorship of LiveAuctions.tv. For questions about this site, or to notify us of broken links, click here. Look for additional coverage in the Angus Journal, the Angus Beef Bulletin, the Angus Journal Daily, the Angus Beef Bulletin EXTRA and Angus TV.