2009 BIF
Seedstock Producer of the Year
Champion Hill Named
Seedstock Producer of the Year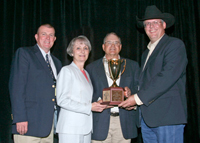 [Photo by Cornerpost Publications,
publisher of the California Cattleman.]
(click picture to enlarge)
SACRAMENTO, CALIF. (May 1, 2009) – The Beef Improvement Federation (BIF) recognized Champion Hill Inc. of Bidwell, Ohio, and Harrell Hereford Ranch of Baker City, Ore., as the 2009 seedstock producers of the year during its 41st Research Symposium and Annual Meeting April 29-May 2 in Sacramento, Calif.
Traditionally, a single breeder is honored, but this year, the committee selected two producers deserving of the nation's top seedstock award, sponsored by BEEF magazine, Minneapolis, Minn.
Paul Hill and Marshall Reynolds of Champion Hill manage 220 breeding-age registered Angus females and 630 mostly half-blood Angus females used as recipients on 4,000 acres of owned and leased land in southeastern Ohio. Each year, the operation sells 300 females in two production sales and 200 bulls through a genetic partnership.
Reynolds owned the land and, in 1993, formed Champion Hill, naming Hill as its president. Their philosophy has always been to breed the kind of cattle that will perform in the showring and make a positive contribution to the beef cattle industry. The team at Champion Hill has selected females from the top cow families in the Angus breed to use as foundation donor cows to consistently produce the quality of cattle their customers have come to expect.
"Paul Hill is one of the best promoters of seedstock in the Angus breed. He should be complimented on what he has done to advance the breed," says Darrell Silveira of Silveira Bros., Firebaugh, Calif. He adds, tongue-in-cheek, "Paul is very deserving of this honor. He has come a long way since the first time we met in 1975 when our reputations were so great that we were stalled together near the wash rack during the National Western Stock Show in Denver, Colo."
"We are honored to have been chosen as the Beef Improvement Federation's 2009 Seedstock Producer of the Year," said Paul Hill. "Lynn and I accept this award on behalf of our partner, Marshall Reynolds, and the entire staff at Champion Hill. We would also like to thank our genetic partners Kelly and Martie Jo Schaff of Schaff Angus Valley, Saint Anthony, N.D."
Hill, who served as president fo the American Angus Association in 2008, adds, "We are indebted to the Beef Improvement Federation for providing the guidance to the breed associations in order for them to provide the tools necessary to advance our herd."
Champion Hill was nominated for the award by the Ohio Cattlemen's Association. For more information, visit www.championhillangus.com.
For a release on co-winners Harrell Hereford Ranch, click here.



Editor's Note: This release is provided by the Beef Improvement Federation. The 41st BIF Research Symposium and Annual Meeting was hosted by the California Beef Cattle Improvement Association (CBCIA) and the California Cattlemen's Association (CCA). For more information, contact Kelli Toledo at 559-972-8987 or visit www.calcattlemen.org/bif2009.html.