Crossbreeding vs. Straight-breeding:
Crossbreeding —
A Tool to Increase Profitability
by Troy Smith, field editor, for Angus Journal®
OKLAHOMA, Okla. (June 13,2103) — No single breed is best-suited to every production system, every environment or every cattle breeder's production goals. Crossbreeding can exploit the significant differences in the relative performance of various breeds for economically important traits. A pair of beef genetics specialists offered that reminder to attendees at the 2013 Beef Improvement Federation Research Symposium and Convention in Oklahoma City.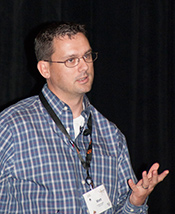 Matt Spangler
Delivering a tag-team presentation, Matt Spangler of the University of Nebraska and Bob Weaber of Kansas State University emphasized that crossbreeding systems must be structured. To achieve desired goals, producers must have a plan.
Spangler said crossbreeding has long been applied to take advantage of breed complementarity and to blend the strengths of different breeds used. However, no longer do traditional paradigms apply for characterizing British vs. Continental breeds with regard to age at maturity, mature size and carcass characteristics.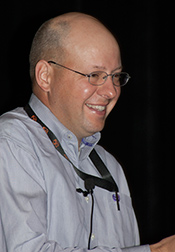 Bob Weaber
"In some cases, complementarity has eroded. That doesn't mean heterosis has eroded," stated Spangler, explaining that heterosis generates the greatest improvement in lowly heritable traits, such as reproduction and longevity, which respond slowly to genetic selection.
"A very real advantage exists in the crossbred cow. Her increased longevity and lifetime production can drive an awful lot of value," Spangler added, noting how the value of increased productivity of the crossbred cow, to a weaning end point, is estimated to be $150 per cow-calf pair per year.
Weaber agreed that the positive effects of dam heterosis on economic measures of production can be significant. He said profit should be the metric for evaluating any breeding system, rather than relying on revenue or premiums as indicators of success.
"Mating systems using individual and maternal heterosis often prove to be the economically efficient," said Weaber. "Economic efficiency is what sustains businesses."
The specialist said cow biological type can be matched to a given production environment and calves to the marketplace through planned sire selection. Phenotypic variation among calves can be minimized through careful consideration of traits like color, use of breed complementarity and use of an appropriate mating system.
Return to the Newsroom for links to the PowerPoint, proceedings and audio for this presentation, as well as additional resources suggested by the presenters.
-----------------------------------------
Editor's Note: This summary was written under contract or by staff of Angus Productions Inc. (API). Through an agreement with the Beef Improvement Federation, we are encouraging reprinting of the articles to those who will adhere to the reprint guidelines available on this site. Please review those guidelines or contact Shauna Rose Hermel, editor, at 816-383-5270. PowerPoints are posted with permission of the presenter and may not be reproduced in whole or in part without the express permission of the presenter.
API's coverage of the event is made possible through collaboration with BIF and sponsorship of LiveAuctions.tv. For questions about this site, or to notify us of broken links, click here.
Headquartered in Saint Joseph, Mo., API publishes the Angus Journal, the Angus Beef Bulletin, the Angus Beef Bulletin EXTRA, and the Angus Journal Daily, as well as providing online coverage of events and topics pertinent to cattlemen through the Angus Journal Virtual Library.