Optimizing Use of Gender-sorted Semen Within a Timed-AI Program
by Troy Smith, field editor, for Angus Productions Inc.
OKLAHOMA CITY, Okla. (June 12, 2013) — Artificial insemination (AI) with gender-sorted semen offers cattle breeders the opportunity to choose the gender of resulting calves with a high rate of accuracy. However, sex-sorted semen is not recommended for use with fixed-time AI due to the lower pregnancy rates achieved, as compared to timed AI with conventional, non-sorted semen. Modification of an estrous synchronization protocol to optimize timed AI with sexed semen was discussed June 12 during the National Association of Animal Breeders (NAAB) Symposium, hosted in conjunction with the 2013 Beef Improvement Federation (BIF) Research Symposium and Annual Meeting, in Oklahoma City.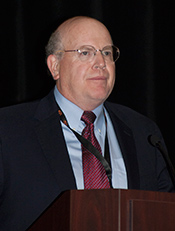 David Patterson
University of Missouri reproductive physiologist David Patterson introduced masters student Jordan Thomas, who presented results of a study aimed at developing a strategy for better managing non-estrus females. Thomas said the main impediment to using gender-sorted semen for timed AI is poor pregnancy rates among cows that have not expressed behavioral estrus prior to insemination.
Thomas said producers could use sexed semen to breed synchronized females observed in estrus, followed by timed AI of females not seen in estrus. Sexed semen could be used only in the females for which heat was observed. Less-expensive conventional semen could then be used for appointment breeding, as these usually will have lower fertility, especially with sexed semen. Another strategy would be to use sexed semen for timed AI of only those cows known to have expressed estrus prior breeding time.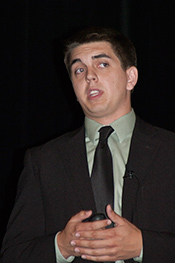 Jordan Thomas
"However, utilization of sex-sorted semen only among estrous females would not achieve the degree of progeny gender ratio skewing that would be possible if sex-sorted semen could be utilized among all females regardless of estrous expression," stated Thomas.
Sharing results of a Missouri-based study, Thomas said modification of the 7-day CO-Synch + CIDR protocol offered improved pregnancy rates using sexed semen to breed non-estrous cows. Typical implementation of that timed AI protocol calls for insemination, concurrent with injection of GnRH, 66 hours after removal of the CIDR vaginal insert. However, the improved pregnancy rates for non-estrous cows were achieved when insemination with sexed semen was delayed until 20 hours after GnRH administration.
Thomas said timed AI pregnancy rates for cows that expressed estrus were still higher with conventional semen than with sexed semen. However, among cows that failed to show estrus, delayed insemination with sexed semen yielded higher timed-AI pregnancy rates than when timed AI with sexed semen was performed at the standard time.
"Furthermore," said Thomas, "among cows that failed to express estrus, fixed-time AI pregnancy rates using sex-sorted semen at the delayed time were comparable to those achieved using conventional semen at the standard time."
Return to the Newsroom for links to the PowerPoint presentation that accompanied this presentation.
-----------------------------------------
Editor's Note: This summary was written under contract or by staff of Angus Productions Inc. (API). Through an agreement with the Beef Improvement Federation, we are encouraging reprinting of the articles to those who will adhere to the reprint guidelines available on this site. Please review those guidelines or contact Shauna Rose Hermel, editor, at 816-383-5270. PowerPoints are posted with permission of the presenter and may not be reproduced in whole or in part without the express permission of the presenter.
API's coverage of the event is made possible through collaboration with BIF and sponsorship of LiveAuctions.tv. For questions about this site, or to notify us of broken links, click here.
Headquartered in Saint Joseph, Mo., API publishes the Angus Journal, the Angus Beef Bulletin, the Angus Beef Bulletin EXTRA, and the Angus Journal Daily, as well as providing online coverage of events and topics pertinent to cattlemen through the Angus Journal Virtual Library.