Crossbreeding vs. Straight-breeding:
Breed Utilization and Production Efficiency
by Troy Smith, field editor, for Angus Journal®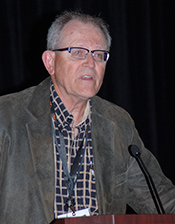 Merlyn Nielsen
OKLAHOMA CITY, Okla. (June 13, 2013) —When choosing and implementing a breeding system, University of Nebraska geneticist Merlyn Nielsen believes cow-calf producers are wise to think broadly. Addressing the first general session of the 2013 Beef Improvement Federation Research Symposium and Convention, in Oklahoma City, Nielsen urged the audience to consider the needs of the industry as a whole. All segments need a chance to stay in business and prosper.
Nielsen said the choices producers make regarding breeds and breeding systems amount to a balancing act. Options include utilizing a single breed or some crossbreeding system involving two or more breeds. The advantage of crossbreeding is the opportunity to capture the benefits of heterosis.
Nielsen said producers must consider the characteristics that play key roles in production efficiency. Those include fertility, calf survival, growth rate, marbling, fatness and feed intake for maintenance. Heterosis, he added, stands out as an important contributor to key characteristics — particularly reproduction and calf survival.
"Variation between breeds for key characteristics is available," stated Nielsen, "and variation is good."
Nielsen reminded his audience that relative importance of key characteristics vary among producers, and their importance can change over time. In a terminal crossbreeding system, for example, breeders focus on the sire's contribution to growth and carcass characteristics. Reproductive characteristics of his daughters are of no concern since they are not saved as herd replacements. When daughters are retained and the focus is on maternal characteristics, feed cost for maintenance also becomes more important.
"Remember that important characteristics determine the choice of breeding system. It really is a balancing act," stated Nielsen. "Wise choices improve efficiency. Poor choices hurt efficiency."
-----------------------------------------
Editor's Note: This summary was written under contract or by staff of Angus Productions Inc. (API). Through an agreement with the Beef Improvement Federation, we are encouraging reprinting of the articles to those who will adhere to the reprint guidelines available on this site. Please review those guidelines or contact Shauna Rose Hermel, editor, at 816-383-5270. PowerPoints are posted with permission of the presenter and may not be reproduced in whole or in part without the express permission of the presenter.
API's coverage of the event is made possible through collaboration with BIF and sponsorship of LiveAuctions.tv. For questions about this site, or to notify us of broken links, click here.
Headquartered in Saint Joseph, Mo., API publishes the Angus Journal, the Angus Beef Bulletin, the Angus Beef Bulletin EXTRA, and the Angus Journal Daily, as well as providing online coverage of events and topics pertinent to cattlemen through the Angus Journal Virtual Library.